Canon / October 8, 2014
Earlier this week, Canon released the following message;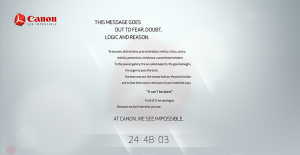 Many people, having not been satisfied with the revealing of the long-awaited 7DMKII at Photokina, have been waiting for a response from Canon to the new innovations by Sony, Fuji, Olympus, Panasonic, et al in the form of a shiny new camera that can do it all. However all the Canon camp got this time around was a brand new ad campaign advertising… umm… well.. I'm not sure exactly what.
Much to the dismay of Canon users, there were no new product announcements or releases this time, and many people went to the forums and even the CanonUSA YouTube channel to vent their frustrations.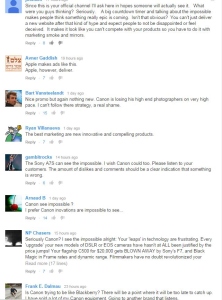 Two comments worth mentioning were:
"We see a world of affordable 4K DSLRs. Canon see Impossible.
We see high frame rates, amazing dynamic range, fast responsive EVFs. Canon see Impossible.
We see investment in sensor technology to enable the best performance in low light. Canon see Impossible.
We see focus peaking, zebras, articulated LCD screens. Canon see Impossible.
We see innovation. We see forward thinking. We see inspiration. Canon see Impossible.
We buy Sony, Panasonic or Samsung. Canon makes another ad."

"Canon see impossible ?
I prefer Canon inovations are impossible to see…"
If I were a part of Canon's advertising and marketing team, I wouldn't know exactly how to feel about this backlash. First, I'd actually be happy that I have a very vocal customer base, even if they are simply cursing me out. Second, I'd be confused. Canon, while mostly known for its photography equipment does make other things. Take this… printer for instance.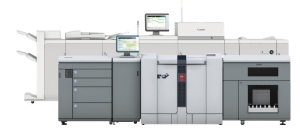 This is not a camera. I repeat, this is not a camera. So whilst we'd like to hope and believe that whenever someone from Canon opens their mouth it'll be about their next game-changing camera, truth is it won't be. The tagline for the ad campaign was "Beyond Photography", I don't think they could have made it any clearer. As a fan of Canon products, I and only partly understand the frustration. I don't currently own a Canon body, but I've owned a 50D a 7D and a 5DMKII at different times. The 5DMKIII is currently at the top of my desired cameras list, simply because Canon's lens lineup is unrivaled. I do think that Canon has been a bit slow in keeping up with Sony, and others, but I don't understand where the expectation for Canon to release their version of the A7s or A7r is coming from. They are fantastic cameras, and are really quite affordable as well. Go get one.